Project Commentaries: So They Brought Their Little Children by Elspeth Young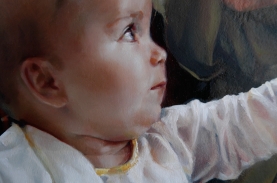 Small detail from painting in progress by Elspeth Young
Elspeth is working on a new painting for the Studio's
Messiah
Collection. It will depict a mother bringing her little child to the Savior, as described in
3 Nephi 17: 11-24
. Though the Savior, Himself, is not visible within the painting, the young one stretches forth her hand to Him, and in turn, His radiant light encircles her in hope, healing, and, symbolically, the ministering of angels.
The young one's earnest reaching for Christ is intended by the artist to symbolize the need for all mankind to "repent, and be baptized in [the Savior's] name, and become as a little child" (3 Nephi 11:38)--to be a visual reminder of the Savior's teaching that we too must reach for Christ and "be converted, and become as little children [to] enter into the kingdom of heaven" (Matthew 18:3). In the words of
Jean A. Stevens
, "Our Heavenly Father knows children are a key to helping us become like Him . . . . to become more childlike . . . is a process by which we can become more Christlike."
Tags: So They Brought Their Little Children, 2011, Project commentaries