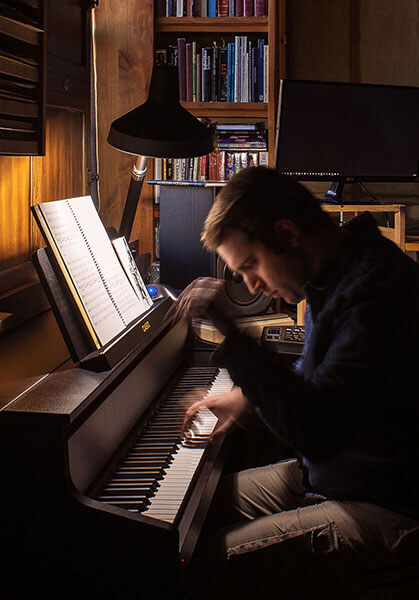 Tanner M. Young
A former Professor of Art at Brigham Young University in Idaho, Tanner has been an Associate of Al Young Studios since 1997 and a full-time Artist at the Studios since 2010. Graduating from Brigham Young University in 2010 with a BA in Art History and Curatorial Studies, he oversaw several research projects in computer vision for art analysis, including his capstone research into eye movement and the Book of Kells.
Tanner is a watercolorist, concept artist, calligrapher, typographer, photographer, book designer, and cartographer. He has composed several classical large-scale orchestral compositions, including a Piano Concerto and Violin Concerto.
He has been a regular columnist in the Storybook Home Journal since 2007, primarily writing about music, musicology, art history, and Asian cultural history, and he has been the publication's senior copy editor since 2011 and its senior designer since 2020. He has also been a book designer for several children's books.
His hobbies are linguistics, cosmology, gaming, and animation. He is fluent in English, German, and French; he is functional, literate, or receptively multilingual in Japanese, Italian, Dutch, Latin, Spanish, Danish, Romansch, Swedish, Portuguese, and Romanian. He is also an avid DIYer, maker, chef, and confectioner.
Since 2006, Tanner has overseen all technological aspects of the Studios, and between 2007 and 2014, Tanner volunteered at and worked with Mozilla as a Quality Assurance Technician and Firefox Developer.
Follow Tanner on Facebook
Follow Tanner on Instagram
Follow Tanner's music on YouTube