$210.00

USD

+

$5.67

shipping

Companion print to Mother Carey's Chickens by Kate Douglas Wiggin. Handmade lithograph featuring coastal scene. Limited and numbered edition signed by artist. The miniature image in this fine art edition is 4 5/16 in. x 1 7/16 in. printed in black ink on hand-torn piece of German etching paper measuring 6 7/8 in. x 3 11/16 in. Printed in the USA. Categories: Al Young, Alpine, Kate Douglas Wiggin, Lithograph, Maritime, Mother Careys Chickens & Trees

Ships to US (including APO, FPO & DPO) and Worldwide. Economy, Priority, & Local pickup shipping options are available at checkout.

In Stock Now

- Product ships in 1 to 3 days

(Serial No. 3.00.0175.010)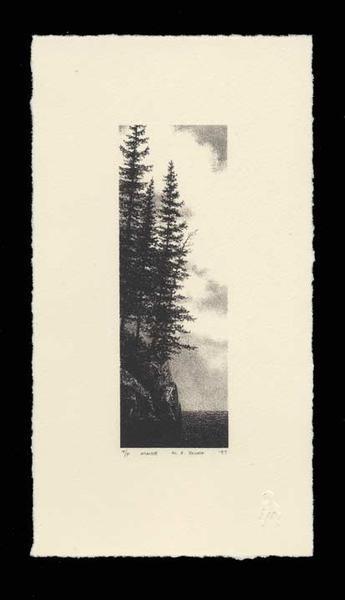 ---
A Companion Print to
Mother Carey's Chickens

Mother Carey's Chickens is set in Maine. And so this little lithograph, like Kate Douglas Wiggin's story, is about goodness and hope, faith and perseverance.


---
Behind the Scene
Travel was an important part of my childhood if only because travel was important to my Dad. There were reasons why he liked to travel, but they are part of his own story; an epic played out upon a stage from the Cookston Hills of Oklahoma to the moonlit fringes of Japan's inland sea, and across every named and unnamed island in the North Pacific. But that is another story for some future time and place.
What I remember as a very young boy is that my parents would pack the car the night before each of my childhood's countless trips along old Route 66 from Albuquerque to Tulsa, where both sets of my grandparents lived. Those nights before departure held all the magic of Christmas for there were preparation, packages, and that anticipation that made it hard to fall asleep. Yet in the morning, after sleep had finally sealed me up in the seamless cradle of its palm, Mother would wake me in the elfin hours before sunrise when childhood only dreams within the circle-marching of the clock.
To this very day I can see the light from the milk-white glass lamp that stood on my nightstand. I can touch with the finger of a child's reach the shadow edges round that lamp-glow as Mother would roust me from the covers, wrap me in the sound of her voice, and pack me half awake in the capsule-nest of home made for me in the back seat. Then I would weave, with the car, in and out of wakefulness along the black thread of highway eastward through the darkness of Tijeras Canyon.
From there, our way would open onto the dark tablelands of east central New Mexico. And with the fairy veil over the clear vault of morning sky being pulled up from all the dark horizon round on the filaments of dawn I would watch westward for the last stars twinkling over the dark and shrinking shadow of the mountains near our home. And my Mother would tell me they were my mountains and teach me to say goodbye to them for a time. So it was that she made them my companions, and in the after years of youth the mountains and the very trees were my best friends and confidants.
---